Tuesday, March 06, 2007
Blog Party!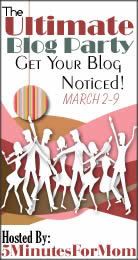 It is here,
5 Minutes for Mom's
blog
party
has begun. I'm a little late to the party, but am definitely in on it.
If you are new to my blog, you can see my little disclaimer at the top of the page which will tell you a lot about what I blog, and my profile in the sidebar which says a little about who I am. My name is Ranee, I am a homemaker, married to Rich who is a pilot and the airport manager on the airport where we live. We have four sons and a daughter. From oldest to youngest, they are: Alexander, 8, Dominic, 6, Elijah, 4, Amira, 2 (she'll be three on Saturday!) and Jerome, 6 1/2 months. The eldest two are in second and first grade, respectively. We live over the water on Puget Sound, and love it here. Our house is hidden away by trees, and if you don't look carefully, you'd miss the street and houses on the other side of the fencing. You might not even see the fence.
I blog in fits and spurts, changing topic as I see fit. It gives me a chance to think a little, and to pass on photos of our kids to the family, along with chronicling my knitting progress and some recipes. Sometimes I post more about food, sometimes more about knitting, sometimes about the kids, and sometimes about my faith and observations. It depends on what is going on in my life at the moment. I am a knitter, obviously, and I am working on some designs to sell. I've recently submitted a few designs to a book that should be coming out in about a year. I still don't know if my designs were accepted.
My family belongs to a
Charismatic Episcopal Church
. We are very active in church life, and our church family is our closest community. Rich and I lead our youth group, Laudate, at our house and have been learning a whole lot along with them. Our faith has sustained us through so many things, and it is inseparable from any other aspect of our lives.
Being a mother of five makes for a busy life. It is fun and rewarding and lots of hard work. This blog is one of my outlets. I've been blogging for about two and a half years now. Knitting, crocheting, reading, cooking and dancing are my other major interests. Rich and I have been married for over 10 years. We met at a dance, and we've been dancing ever since. I used to teach ballroom and latin dance, and now we try to go out about once a month to have a fun date. I've been knitting for over 20 years now, and cooking at least as long. I hope you enjoy visiting my blog, find something to interest you and join in on the party.
I asked my friend
Amanda
if I could blog her when she came over for dinner on Sunday.
You see, I wanted to post photos, too, and not just a narrative. Amanda is a friend of ours that we met through our
neighbors
, she is their daughter and an incredible photographer. She is also the organizer and force behind
The Delta Music Experience
. I think she said they are overhauling the website, so you may have trouble viewing it now, but go and visit. If you click on her name above, you will go to her photography website. I should have had her take the pictures Sunday.
Please sit down and have a drink. We have wine, water and coffee. Feel free to grab some grapes out of the bowl.
Rich will grill the fish while we chit chat.
You can just keep me company while I slice up the garlic bread.
After we get to know each other over dinner, I hope you'll join me in eating these lovely molten chocolate cakes. I just had to dip into it, it was so good!
Thank you for coming, I hope to see you around again soon! Please leave a comment to let me know that you were at the party.
Comments:
Hi there, Nice to meet you, anything sweet for this pregnant women please, I would love the recipe hmmm, please drop over and have a look around my blog if you would like, your more then welcome
Post a Comment
Links to this post:
<< Home