Sunday, July 19, 2020
Menu Plan: July 19 - 25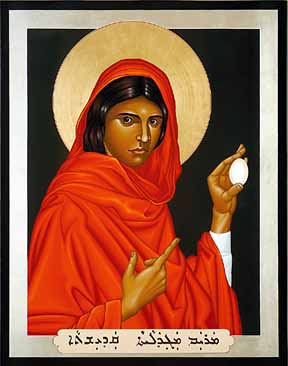 It is my birthday this week! Because we are still on Lord Inslee's restrictions, it is more subdued, but we are getting Salvadoran take out from a local restaurant and I am making fancy cake. We have a repeat this week, because we ended up with a ton of salad ingredients and made chef salad last night instead of the dinner I had planned. I love that my birthday is between the feasts of Saint Mary Magdalene and Saint James the Apostle. I love these holy people, and I love what they did for our faith. Saint Mary Magdalene, one of the myrrh-bearers and called Equal to the Apostles, is one of my favorite saints, and her faith and brave witness as an
evangelist to those in the highest places
inspires me, even as I am often timid about speaking up to people I know.
Sunday
Breakfast: Sausage and Egg Breakfast Casserole, Sliced Oranges, Milk and Coffee
Dinner: Dutch Meatballs with Hutspot and Gravy, Coleslaw

Monday
Breakfast: Oatmeal with Raisins and Brown Sugar, Milk and Coffee
Dinner: Slow Cooker Sausage and Peppers, Creamy Herbed White Beans, Roasted Zucchini with Garlic and Fresh Oregano, Cherries

Tuesday
Breakfast: Ful, Olives, Sliced Cucumbers, Milk and Coffee
Dinner: Leftovers

Wednesday - Feast of Saint Mary Magdalene
Breakfast: Oatmeal with Cinnamon Sugar, Tea with Honey
Dinner: Cucumber and Cream Cheese Sandwiches with Dill and Garlic, Kalamata Olives, Fruit

Thursday
Breakfast: Christmas Scones*, Butter and Cream Cheese, Tea and Honey
Dinner: Loco Moco with Hamburger and Gravy, Fruit

Friday
Breakfast: Cherry Nut Bread* with Cream Cheese, Sliced Oranges, Tea with Honey
Dinner: Salvadoran Take Out, Baq'lawa Cheesecake

Saturday - Feast of Saint James the Apostle
Breakfast: Pancakes with Maple Syrup, Bacon, Fruit, Milk & Coffee
Dinner: Leftovers
What is on your menu this week? If you want a recipe, ask and I will provide it as soon as I can. If there are any starred recipes, I will follow up separately with a weekly recipe round up on Saturday.
Linking to Menu Plan Monday
Labels: Birthday, Church Year, Faith and Morality, Family, Governor Inslee Needs a Frozen Fish to the Forehead, Homemaking, Menu Plans, Quarantine, Tales from the Kitchen